Inner Circle Membership and Starting Product: The Coven Light - Satin Collection - Bath Bomb
You might love...
Customer Reviews
Write a Review
Ask a Question
11/03/2021
Anna W.

United States
Almost perfect
The scents of the bath bombs and candle were amazing. Not overpowering at all. The crystals in the rings are very beautiful as are the rings themselves. The only problems i encountered with a ring was the one that came in the candle had side pearls that fell out shortly after putting it on. And the bath bombs were very crumbly. I put them in ziplock bags to better preserve them. Overall I was happy with the scents and design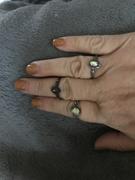 10/26/2021
Erin M.

United States
The most spectacular candle... EVER!
This was my first satin candle purchase...I am a very frugal person and it hurt me to my soul to spend so much on a candle.... until I got it in the mail! This candle is just magnificent! The jar is stunning, the scent is to die for and the jewelry inside... perfection. I would buy this fragrance if it was for sale and wear it everyday. Amazing job FG!